Essay of the two delegations of the IG-Metall Youthproject
december 1999 and january 2000
The participants of both working brigades consisted of 28 people, 11 female and 17 male colleagues.
The participants were sent out by the IG-Metall Youths of Amberg, Berlin, Braunschweig, Frankfurt, Hamburg, Schliersee and Schweinfurt.
There was a theoretical and a practical part within the brigades.
The theoretical part consisted of gathering knowledge about the country, the people, the working-and living circumstances as well as the political and economic situation.
This task was remarkably fulfilled by Fred Sols of the Workers College.
The aim of the practical part was to build a new Youth-centre together with the people of the township in the Walmer Township in Port Elisabeth- an multi-racial meeting hall.
The financial support was given by our companies, campaigns or conferences.
The brigade who was sent out in december 1999 covered the foundation of the meeting point with concrete. On top of that the hall was built as a steel construction. Stones were poured/produced to build the walls.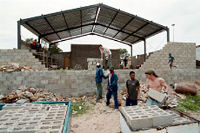 The brigade of january 2000 finished the building work, covered the floor with cement, installed electronic-lines, waterpipes, windows and doors.